Hotel Info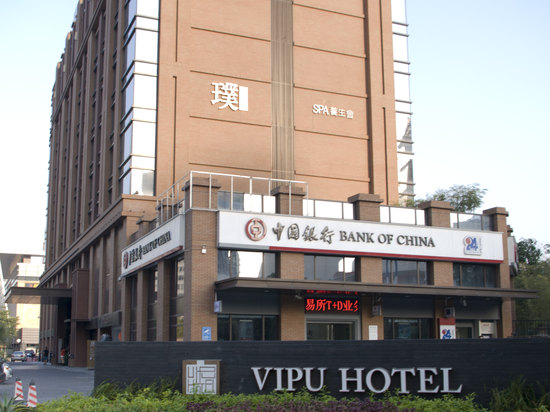 Foshan VIPU Hotel
is located in the core area of the new Guangzhou Foshan Economic metropolitan area - Guangdong financial high tech service zone. It is the CBD of Nanhai District and even Foshan district. The building of the hotel is close to the lake, with beautiful landscape canal and quiet Qiandeng lake. It is the preferred hotel for your business trip or leisure and entertainment.
The location of the hotel is excellent, about 8 minutes walk to qiandenghu subway station of Guangzhou Foshan line; It's about 10 minutes' drive from Foshan and 18 minutes' drive from Guangzhou. Stay in this hotel, make you in the bustling: poly water city super large commercial complex is close at hand, cinema, KTV, famous store City, food street, supermarket, bar and so on, is your travel wise choice.
Foshan Xinghai Investment Management Co., Ltd. invested a lot of money to build the hotel. The overall decoration style is mainly based on Chinese culture, supplemented by traditional Lingnan fashion elements. At present, the hotel has all kinds of rooms with Lingnan characteristics and cultural style and VIP suites with elegant and fresh style. You can have a panoramic view of the quiet Qiandeng Lake by pushing the window. The cool breeze makes you immersed in the elegance and tranquility of the hotel.
Hotel staff adhere to the 'customer first, service first' service philosophy; We provide you with professional and intimate platinum housekeeper service everywhere, so as to avoid worries for your business trip or leisure entertainment. Yapu restaurant on the first floor is equipped with elegant music, delicious food, exquisite afternoon tea, famous wine and so on; Denghu private banquet on the ninth floor has a built-in wine cellar, a luxury cigar bar and a delicacy, all of which are managed by famous chefs. The special dishes show ingenuity and are your wise choice for business banquet.
Breakfast price
: CNY58($7.9) / person
Breakfast time
: 07:00-10:30
Breakfast type
: Buffet (Western, Chinese)